Florence
Locally Owned and Operated by Our Awesome Franchisee

Step1:
Choose Your Menu Item
Small Burrito……$6.29
Regular Burrito……$7.39
Tacos……$3.19/$7.39 (basket of 3)
Taco Salad……$7.89
Nachos……$7.49
Quesadilla……$6.29/$7.39
Cabo Bowl……$7.89 / comes with queso
Big Kahuna Burrito……$12.99 / Good Luck!
Signature "Baja Style" Fish
Baja Fish or Shrimp Burrito……$6.29 sm / $7.39 reg
Baja Fish or Shrimp Tacos……$3.19 / $7.39 (basket of 3)
Little Surfer Meals (for kiddos 12 and under)
Burrito, Quesadilla, Nachos, Taco……$4.55 / includes meat, rice, beans, small queso, chips & soft drink
Step2:
Choose Your Ingredients
Choose Your Tortilla
Small Burrito (10-inch) – Flour
Regular Burrito (12-inch) – Flour, Chipotle, Wheat, Spinach
Tacos (6-inch) – Flour, Corn
Choose Your Main Ingredient
Grilled Chicken
LaTinga Chicken *Little Spicy*
Grilled Steak
Carnitas…it's pulled pork!
Veggies (guacamole, grilled onions or garlic mushrooms)
Choose Your Freebies
Mexican Rice
Beans (Black or Pinto)
Jack Cheese
Shredded Lettuce
Pico de Gallo
Onions
Sour Cream
Green Onions
Diced Tomatoes
Black Olives
Jalapenos
Cucumbers
Hot, Mild, Pineapple or Tomatillo Salsa
Make It a Combo!
Add Chips, salsa bar and a soft drink……$2.29/$2.59
Step3:
Choose Your Extras
Sides
Side of Mexican Rice and Beans……$2.49
Grilled Onions……$0.69
Garlic Mushrooms……$0.69
Queso Dip and Guacamole……2oz $1.29 / 4 oz $2.29 / 8oz $4.29
Seasonal Offering
Baja Chicken Tortilla Soup……$5.69
Desserts/Drinks
Christie Cookie……$1.59
Brownie……$1.59
Soft Drink……$1.89 / $2.19
Tea / Baja Fruit Tea……$1.89 / $2.19
Bottled Water……$2.09
Jarritos……$2.29
Domestic Beer……$3.09
Imported Beer……$3.89
Gallon of Fruit Tea……$7.29
Call In Order
256-712-5152
Fax In Order
256-712-5153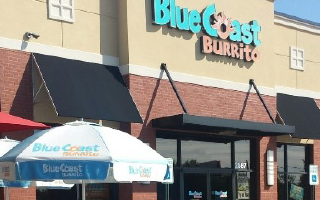 Most locations open 11am-9pm. Visit individual location pages for hours of operation and pricing.
Hours of operation and prices may vary and are subject to change without notice.